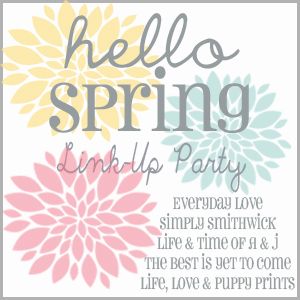 Leah // Caroline // Alison // Carolyn

Thanks so much for linking up all week, it's been so fun!

Today we're talking about spring DIY projects. Now I'm going to be honest and tell you I haven't done hardly anything yet. I really want to get a fun spring wreath made and I have my eye on this one!
I did, however, make this cute little diaper cake for our friends last weekend.
I used roughly 60 diapers.
You roll the diapers and secure them with rubber bands.
I used a baby bottle in the center of the cake to hold it together and just put the diapers around it,securing them with one large rubber band.
Then you take ribbon and wrap it around the entire thing to cover up the rubber bands. Hot glue it together, add a fancy bow and a few rubber ducks, and voila! 🙂
Very easy! Now let's see what DIY projects you've been up to! Make sure to come back tomorrow for some delicious spring recipes!